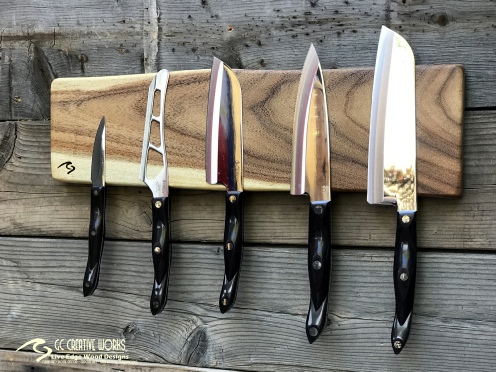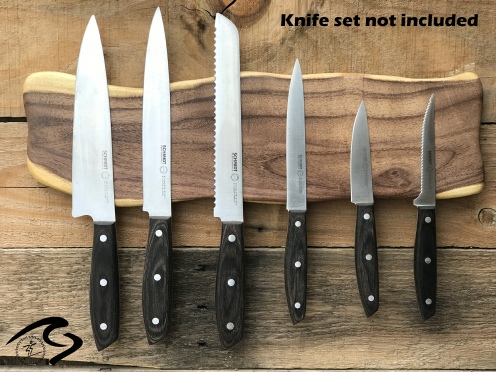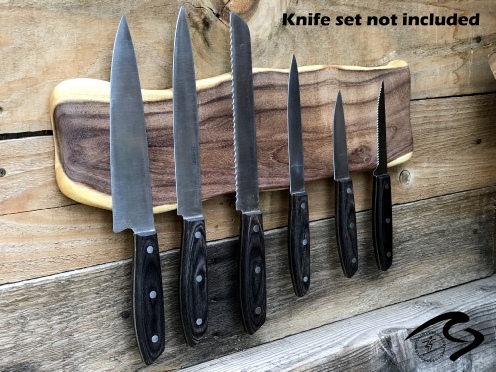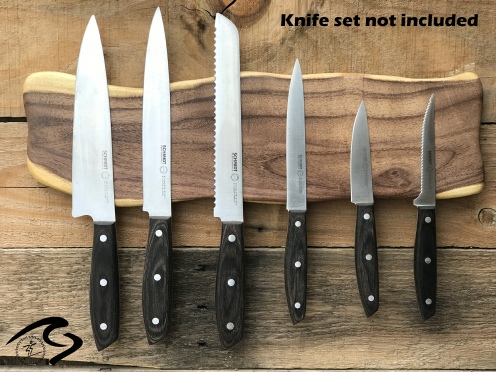 Live Edge Mesquite Magnetic Wall Mount Knife Holder
DISCLAIMER:
PLEASE read the description below prior to purchasing this item. Each live edge wood is unique and vary from log to log milled. The pictures are solely to show the different grain patterns and shade characteristics of the wood. Every item is custom made to order which means no two live edge wood will ever be the same or what you see in the sample pictures listed. If you have further questions, please call or email.
►KNIFE HOLDER DESCRIPTION:
Live edge Arizona grown desert hardwood magnetic knife holder wall mount has multiple Neodymium super strong magnets routed depth evenly, embedded in the back of the wood and sealed with epoxy. The magnets are evenly spaced for each knife. Wall mounted design frees up counter and drawer space and gives a creative look in your home. Designed for wall or back splash mounting. The back is routed at each end for keyhole. Two brass metal keyholes are attached on the back of the wood for added strength. Mounting instructions, wall anchors and screws included.
NOTE**** The KNIVES are not included in the picture shown. It is only for illustration purposes. You are only purchasing the live edge magnetic knife holder.
WOOD MATERIAL:
Arizona grown WILLOW ACACIA desert hardwood is uniquely hand-crafted and custom designed from weathered-down trees found in the suburban metropolitan Phoenix area. By acquiring desert hardwood logs allows me to create 100% sustainable, repurposed live edge wood designs. This prevents some logs from being taken to the landfill. Both sides of live edge slab goes to a router sled table to obtain desired flat surface and thickness.
Note that each wood material has a has a unique characteristic and will vary in shape, size, texture and it's not always what's in the picture shown. During the build process, I fill most of the natural cracks with epoxy. The cracks on the wood may be visible due to its natural air drying process and kiln dry process. As the wood slab ages, noticeable cracks on the wood may appear due to its natural dry cracking process and changes in humidity and temperature. Any voids or cracks from the wood are sealed with epoxy to maintain the integrity of the wood.
NEODYMIUM MAGNET:
Neodymium magnets are the strongest permanent magnets. They provide unparalleled levels of magnetism and resistance to demagnetization. They are also described as rare-earth magnets, because neodymium is part of the rare-earth family of elements.
►OIL FINISH:
Hand rubbed finish using OLD MASTERS gel polyurethane clear satin gel and food grade oils . It brings out the natural beauty of wooden surfaces; durable coating for use on wood surfaces and contains ultraviolet absorbers for advanced sun protection.
DIMENSIONS:
Length: From 10" - 48"
Width: 5 inches
Thickness: vary from 3/4-1-1/8 inch
LASER ENGRAVING (OPTIONAL):
Cost for laser engraving is additional $25. Maximum allowable engraving is 3.50 inches long by 1/2 height. The location of the engraving will be on the right corner of the live edge wood.
COMPLETION TIMELINE:
Please allow 5-7 days to complete each cross from the time order is received.
CUSTOM SIZE ORDER:
Send message to request custom size for live edge knife holder. Thank you for your business.
►ABOUT THE ARTIST: Garie Chavez | Artist & Musician: I have been designing live edge wood art and furniture design since 2015. Patience, persistence, passion and attention to detail are the key ingredients to my creative work. My goal is for my clients to have a piece of art that they cherish, and know that it is truly one of a kind and made especially for them. Thank you for allowing my art to be part of your home and family.
►PRICE: $175 - $500 (depending on size and number knife placement)
►PLACEMENT OF KNIVES:
To prevent the live edge wood magnetic holder from getting scarred, turn the knife handle 90 degrees and pull straight out. To put knife in place, hold it straight and rest the back of the knife on the wood and turn to secure in place. Click here to see video on You Tube.